THE STEINS OF SCIENCE: Available here on this website and on the associated Etsy for expensive, though reasonable, prices.
(Note: I have not gone mad, the pictures from the Gallery of Steinwielders were removed during site migration and will return with more as we take them)
Once upon a time, I was a cryogenics technician for Amundsen-Scott South Pole Station. Yes, the South Pole…as in the bottom of the globe. In addition to spending my days maintaining liquid nitrogen and liquid helium for astrophysical and atmospheric science experiments, I was also the bartender. During my year on the Ice, I had the opportunity to do plenty of experimentation blending my work with my hobby, creating a variety of liquid nitrogen based cocktails to enhance the alcohol content by freezing out all the water that used to be in your drink. Denizens of New England should be very familiar with this method of creating apple brandy; I'm not that patient and I had liquid nitrogen at my disposal…but cryogenic cocktails are a story for another day.
Fast forward several years.  I acquired two bench top liquid nitrogen dewars on the general principal of "I don't know why I need one, but why wouldn't I need one?"
For people who would like to know more about just what the heck a dewar is, click here for a slightly somewhat half-assed explanation of how dewars work, the underlying physical principles and why they are good.
In September of 2009, I embarked on a great work that required overcoming one of the greatest forces in the universe: my procrastination. After having it sit in my cupboard for a little over two years, I finally followed through on my intention to transform my 1900ml dewar into the very first Stein of Science in time for Oktoberfest celebrations.  Accordingly, the original is referred to as "der wissenschaftenstein". If you wish to refer to yours the same way, I can't stop you (nor would I want to) but the original is frozen in time, full of Kostritzer black ale, in this picture below.
Figure 1:  Der Wissenschaftenstein, full, with a diminutive 1L glass maB in the background
Not long after Oktoberfest, I shared my creation with the Funranium Labs Staff X-Ray Crystallographer. He was so impressed by Der Wissenschaftenstein that he commissioned the construction of an even greater vessel to inspire shock and awe at the weekly UC Berkeley Chemistry Department beer consuming social hours, lovingly known as ChemKeg. The new stein performed admirably and has been dubbed "The ChemKeg Dominator". When not filled with sweet, sweet barley pop, the ChemKeg Dominator enjoys a commanding position in his office, greeting all who seek audience.  It is pictured below side by side with the original 1900mL, dwarfing it in a frightening manner.
Figure 2: The ChemKeg Dominator next to Der Wissenshaftenstein (compare with Figure 1)
Since these first two, I have created a variety of these steins in several different sizes and sent a total of 387 of them off into the world so far. By far the most popular has been the 665ml; the imperial pint fits most people's reasonable beer consumption and it is also the most economical. The full aluminum shield models look dang snazzy, but I miss the gleam of visible silvered glass (my personal preference).
Some Notables from the Roster and Family Photo Album of the Steins of Science
#1: 1900ml standard – the original Der Wissenshaftenstein (see Figure 1)
#2: 4300ml standard – the ChemKeg Dominator (see Figure 2)
Figure 3: The ChemKeg Dominator and Bruker MicroSTAR with Steinwielder Antonio.  Check out all that majesty.
#3: 1000ml standard – a sTein for sTone.  A gift for the man who loves the number three and beer, Benjamin sTone.
Figure 4: #3, the sTein for sTone, being held with glory for all to see in front of the Blue Bottle Coffee Roastery by Stienweilder Ben
#4: 665ml standard – a birthday gift to Steinwielder Anth in Hercules, CA
#6: 1000ml full aluminum shield – a Christmas gift to Steinwielder Tox in Alameda, CA
#7: 665ml standard – Lucky Number 7, owned by Steinwielder Brad in Oakland, CA
Figure 5: Lucky Number 7, owned by Steinwielder Brad, pictured with his very special friend who is on "Time Out"
#8: 665ml standard – The Ocho, owned by Steinwielder Chris in Oakland, CA
Figure 6: The Ocho, with Steinwielder Chris, standing in front of the absinthe still at St. George Spirits in Alameda, CA (AKA The Happiest Place on Earth)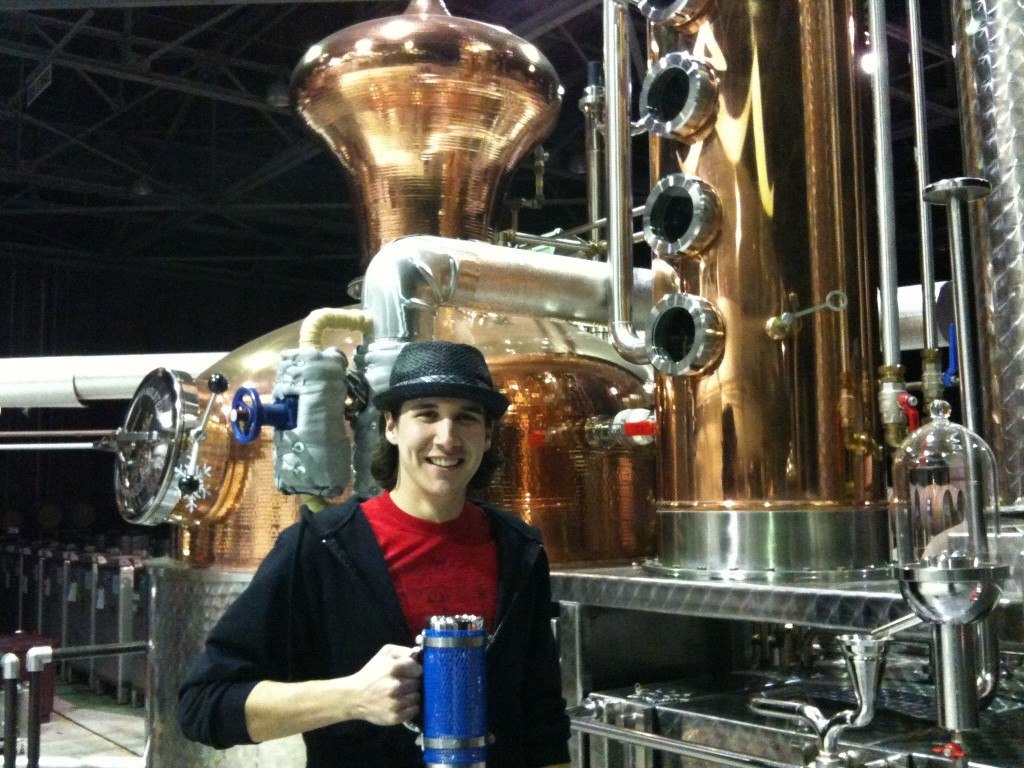 #10: 665ml standard – an anniversary gift victory to a lucky husband, Steinwielder Mike, in Newfield, NY
Figure 7: #10, the DumTech Beer Cow Fluid Receiver, in action with Steinwielder Mike.  Photo by C. Chiment.
#11: 1900ml standard – owned by Steinwielder Larry in NY, NY. Indeed, life is too short for cheap beer.
#12: 350ml standard – a customized stein for Herr Direktor's main squeeze
Figure 8: #12, no protective teflon netting, brass handle, and decorative anti-piracy warning stickers. Steal ye not me lover's grog, me lover!*
#13: 350ml standard – a birthday gift from Herr Direktor to my father, lest I be disowned for failure to provide a stein in return for the gift of life.
#16: 665ml standard – owned by Stienweilder Nick in Miami Beach, FL (upholding the Floridian refrigeration tradition of John Gorrie, bully for you sir!)
#17: 665ml irregular – Herr Direktor's every day drinking stein. Not every bar wishes to serve 64oz of beer to me at once.
Figure 9: #17 (left), no protective teflon netting, brass handle, pictured next to #12 for size comparison
#19: 665ml standard – a birthday present to Steinwielder Anthony in San Francisco, CA
Figure 10: #23, with its owner Steinwielder Anthony at his birthday party
#22: 350ml standard – custom design request, a soon to be birthday present for a lucky neuroscientist in San Francisco, CA
#23: 665ml full aluminum shield – a masterpiece, the first of its kind, owned by Steinweilder Antonio in Hayward, CA
#31: 665ml standard – owned by a man defending his beer against tropical heat, Steinwielder David in Hong Kong
And over three hundred more since…
If you like what you see here, pass the word.  So far, Funranium Labs has graced the august pages of Thrillist, Coolthings.com, uncrate, nerd approved,gizmodo, The Awesomer, and the personal soapbox of that over-caffeinated madman and Internet Jesus, Warren Ellis. The scientific glassware, coffee, and booze that powers Funranium Labs comes to you without advertisement…only pure mischievousness. We are only encouraged by your indulgence.
*: Funranium Labs apologizes for that terrible abuse of the West Country accent. It is all British Nick's fault when Herr Direktor visited Exeter and he subjected me to the wonderful beers and ciders of Dorset and Cornwall.