The traditional answer to avoiding NIMBY crap, whatever your particular issue may be, is to build your facility three miles down the road from the ass end of nowhere. Unfortunately, the suburbs will follow you and suddenly it's your fault that you're in their backyard again. You can't win.
[The sixth in an ongoing series of my compiled explainers for my CHOOSE YOUR OWN RADIATION ADVENTURE quizzes. There's never really a right answer but some might work out better under the constraints of the scenario. It's like poetry, really.
GOOD NEWS: when McMansions attack they bring some support networks with them.
BAD NEWS: not *enough* support network, because one of the reasons to move to the sticks is to avoid taxes which would pay for that support, so…bummer. 
But there was a good thing to really help under resourced jurisdiction that grew out of the catastrophe of the 1991 Oakland Hills Fire: the birth of the Mutual Aid System. READ: when you call for help, people will come, and everyone will use the same jargon, clear speech, and radio frequencies (except NYC). This was also the birth of Unified Incident Command. Everyone in America, except NYC, got the message that it's nice when you can count on your neighboring agencies to help you in a pinch. Outside agencies trying to help NYC with 9/11 had a really hard because they alone hadn't got with the program, which was one of the many findings of the 9/11 Commission. NYPD could barely talk amongst themselves, much less coordinate with NYFD. Trying to undo NYC's "The New York way is the best way and fuck you" attitude for just emergency response was one small part of creating the Department of Homeland Security. You know, so we can learn how NYC wants to do things and make sure the rest of the country does that to.
In the American West, one of the most deployed groups under Mutual Aid are the hotshot teams, AKA professional wildland firefighting crews that are usually the very first backup that arrives to a wildfire that's exceeded the locals' capacity to fight. What your hotshots can do is very dependent on how fast the wildfire is moving, terrain, and what they have time to set up before it's too late. Your hotshots see that NFPA diamond and call because they want a little more guidance than "PROTECT BUILDING". People did a close read of the NFPA diamond primer I shared, but missed some close reading of the listings where those are *examples* of behavior. A Yellow 2 (reactivity) does not guarantee water incompatibility. If that was the case, you'd get this down in the white section.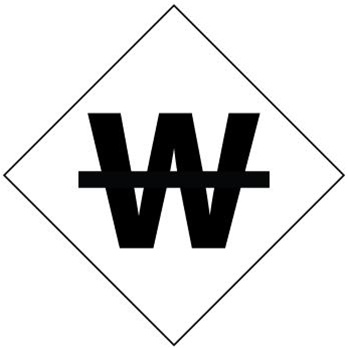 And while these quizzes seem to prime and attract people who are frightened/intrigued by radiation hazards, let me assure you that there is nothing that a firefighter wants to see less than that W. They don't like rad, but they HATE "no water".  To quote my old Santa Clara County Fire instructor, Cap'n Bubba, if you cannot put the wet stuff on the hot stuff until it is cold stuff and this does not compute to the firefighter mind. (Cap'n Bubba was a very bright hazmat guy but liked to play dumb hosedragger.)
But back to the NFPA diamond, of the 3-4-2-rad, the Yellow 2 is the least concerning. The rad trefoil down in Other Information will give most firefighters pause but it's nowhere near as terrifying as the Blue 4. That tells the team there is either a prompt death or a fast cancer. This is where I get to share one of my favorite acronyms from the field of Industrial Hygiene to describe what a facility with a Blue 4 is when it's on fire. IDLH: Immediately Dangerous to Life and Health. 
Remember, the NFPA diamond is telling you about the hazards of the contents this building *WHEN IT IS ON FIRE*. For example, the dumpster fires behind Silicon Valley chip fabs in the 1970s where you suddenly have an entire engine crew dead of interesting cancers within 6mo (yes, this happened). Funny enough, things we normally would be day-to-day very worried about working with for their carcinogenicity, like asbestos or beryllium, would hardly count on the NFPA diamond during a fire. For that matter, radioactive materials don't get more radioactive because you lite them on fire, but you might make a larger mess. This is why they're down in "Other Information". You need the other three to know how bad things are as you approach and the white diamond is just Challenge Score Multiplier. 
No one likes to see rad on the sign but the thing we trainers continually drill into firefighters is that they remember the response hierarchy: Life, Property, Environment. We can't unkill someone. We can't unburn a building or a forest. But we can clean up afterward.
And of course, the First Responder's First Rule: look out for your safety, because you help no one if you become a victim too.
Which brings us back to the hotshots. They are not hazmat responders but they do know all about defensive actions for protecting structures. 
They aren't gonna set up downwind monitoring because they have much more important things to do with chainsaws. Notify the EPA or local equivalent to get things started on that. For that matter, there may be no wet stuff to put on hot stuff here. Generally speaking, there's gonna be hookups at somewhere on the site for them to run hoses to but if that's not in a strategically safe space or the water supply is gone then the hotshots do what they do best: chainsaws, backburns, and trenching. If the circumstances are kind enough to make the protective lines to keep the fire from getting to the building, stay upwind and at good distance following the rule of thumb: stick your arm out, stick up your thumb, and if that covers the entire incident, you are far enough away. 
If they aren't the kind, you evacuate and you evacuate fast because the Blue 4 with a Red 3 tells you don't want to be near that building when it goes up. Radioactive things hardly count in this scenario other than to give your hotshots a moment's pause. 
---
In the inspiring event for this scenario, unfortunately, rad concerns did give the fire crew pause. Mainly because I had *just* trained them how to use their new radiation detection instrumentation the previous week.
New meters and the Very Nice Educational Man who answered any and all questions they had, which apparently previous trainers had not, meant they'd spent the intervening days thinking a lot about radiation hazards.
When the emergency alert went out, I happened to be nearby and went to go see what was up as the call was for a building I kinda took care of when other people went on vacation. Lo and behold, the fire crew I'd recently trained was at the end of the block from the building, standing around the truck in turnouts, as a small plume of smoke rose from the building.
Me: What the fuck are you standing here for?
Captain: The building has rad on the diamond.
Me: So?
Captain: We can't hose that down.
Me: If you don't there won't be a building anymore. The latency of hard body radiogenic cancers are about 40 years. The latency on that fire is minutes.
Captain: But the contamination…
Me: I CAN CLEAN CONTAMINATION! THAT'S MY FUCKING JOB! It's expensive, it takes a long time, but I can't unburn a building. Use your fucking meters like I trained you and put the fucking fire out.
[firefighters scurry] 
When I shared this story with Cap'n Bubba later, I thought he was gonna to wet his alligator skin cowboy boots from laughing so hard. He complimented me on my understanding of firefighter mindset and creative use of motivational swearing.
Incidentally, the building was fine.
~fin~
MORAL: The real lesson of this thread, and that my firefighters need to take to heart, is not getting fixated when assessing the Immediacy of Hazards. In the event of fire, FIRE is the most immediate concern. You can worry about radiation releases/exposures when you aren't burning.
0
0
Phil B
Phil B
2020-10-14 12:05:38
2020-10-14 12:19:26
CHOOSE YOUR OWN RADIATION ADVENTURE: Wildfire vs. Rad
As the denizens of this blog know, Dia de los Muertos is my birthday and, in my family, one's birthday is a high holy day. It is to be honored and you should enjoy the hell out of that day. This year, because I'm trying to be a responsible adult in the COVID times, my plan is to stay local and hit up Evergreen Cemetery. Gotta go say hi to Huey Newton, the Hells Angels who are a little further down the road, and the unclaimed victims of Jonestown.
But on November 7th & 8th, I will be joining Test Subject Not-A-Whale Biologist (AKA Thomas White), Test Subject THE WORLD, and my Lovely Assistant for a 24 marathon of our favorite board game, Shadows of Brimstone, for Extra Life 2020! Because we're old, our bodies are weak, and we've learned valuable lessons from the last three years (yes, this will be our fourth year), we'll be splitting this over two days. There will still be a whole lot of BBotE, fine drink and impromptu dance parties to keep us going because that's a whole lot of gaming. Please join us for being very, very silly and help some sick kids because that's one of the things I want to do with my extended birthday fortnight. And, yes, there will be a Twitch stream and there will be a chat function. If you feel like it, please go donate to either my personal page or to our group, TEAM SENSIBLE SHOES.
Because it is all, as Norville Barnes says:
The tricky part, much like my birthday fun,  is COVID-19. Unlike the previous years, my Lovely Assistant and I don't get to go down to play in the Gametarium and instead will be remoting in. For those of you watching us on the stream, this won't be much different; we've always been disembodied voices to you while the action is on the board. Unfortunately, this also means there will be no opportunity to yell "PORK DELIVERY!" for when the fresh chicharrones from the Pig Wizard shows up this year. This is more of a personal tragedy for me though.
Lastly, THE DECEMBERING will soon be at hand again. If you're planning your holidays that far out, before Halloween even, jeez, I kinda envy your preparedness, but simmer down. One holiday at a time, yo.
0
0
Phil B
Phil B
2020-10-09 23:36:33
2020-10-09 23:36:33
Birthday and Extra Life 2020
It's clear that folks have some experience clearing out the homes & offices of deceased friends and relatives who were eccentric. From the previous Radioactive Seagull Adventure, perhaps they were the Local Color.
Inherit enough interesting things, you might get known as the Local Color too.
[The fifth in an ongoing series of my compiled explainers for my CHOOSE YOUR OWN RADIATION ADVENTURE quizzes. There's never really a right answer but some might work out better under the constraints of the scenario. It's like poetry, really.]
It's clear that many made the inference "Manhattan Project researcher" + "rockhound" + "collector" = ALL THE RADIOACTIVE MINERALS. Having cleared out my fair share of places, this isn't a bad inference. If you aren't using Fiestaware as a check source, U/Th minerals work well too. 
But for this scenario, I asked where do
you
fear to tread the most. This is cruel trickery on my part as it prompts you with "fear" and that prompting causes you to try to think like the deceased through a lens of fear of the objects in their home. A big part of situations like this is sleuthing. The radioactive, toxic, etc. characteristics of your substances are intrinsic. How they got to where they are now and, how bad that might be, is a function of human behavior which is what you've got to figure out.
The prompt to fear kept most of you from starting at the real motivation point of a collector: love & obsession. T
hat completely shifts where you find things. 
The hard part then is trying to figure out "What where they collecting? What were they trying to complete a set(s) of?" As an example, I am a coin collector but this doesn't mean I collect ALL coins. I collect mostly American coins. But then you see coins from the Philippines. Wait, how do these and the Kingdom of Hawaii coins fit into an American coin collection? This is because in the larger collection, there is a subset of "This Is ALSO American Money". And then you see this coin in a different smaller binder. Because I also have the Atomic Coin Collection.
If you didn't already know the deceased, as you start looking around the place you start forming a picture of the person. You start figuring out what they cared about and the hierarchy of love and pride in their possessions, which is normally expressed by proximity. To a first approximation, the garage, basement and shed contains the things that are either too large, too dangerous, duplicates in the collection, or are outliers that just don't quite fit a theme in the collection. The desk & shelves will have the most treasured mementos, the best examples of type, the most exotic things, and the most difficult to complete collections. In short, you will find the things they wanted to show off. The prettiest minerals specimens will be here. @mikamckinnon, DO NOT LICK! But as you look around in here you're going to learn what the collections, note the plural, are. NOTE: just look, do not touch yet.
Personally, I have the utmost terror of offices because a live grenade as been a treasured item more than once. But that's me. And, JUST BECAUSE, before you start opening drawers in filing cabinets and desks be sure you have gloves, I want you too look very closely for wires connected to things and for something that looks like can on the corner. Thermite document destruction happens. :( 
Some of you already expressed an appropriate terror of accidentally discovering classified materials. Hopefully, you don't find anything and there's no document safe. But if you do, DON'T READ THEM ANY FURTHER, stick it in a bag and keep custody of it until you can turn it over. Promptly. Annoyingly, this is a security violation to even have in your possession but you tend to get the benefit of the doubt for turning them over as soon as possible. It probably was for the deceased too but, well, they're dead and no longer subject to disciplinary action. Also, don't be surprised to find various loaded firearms in the office. It happens. 
We move on to all the boxes in garage. This represents the second strata of their collections and their most recent/unsorted acquisitions. If there's a workbench in here, that will have the newest and most interesting items. This will also be where you find the first big item. I can't begin to tell you what that big item is going to be, but the collection will be an indicator. Maybe it's a boulder. Maybe it's restored Sherman tank. Maybe it's the largest damn vacuum tube you've ever seen that is, oddly, radioactive too. The boxes on the shelves here in the garage are going to constitute larger mineral samples and, knowing collectors, they've been sorted. Hopefully the heaviest things are on the bottom shelf, but safety isn't usually the priority of collectors. Most of them won't be radioactive. The nature of the sorting is going to be hard to tell without some detailed mineralogy knowledge. One hopes it's been done by mineral groups, like "here's a big box o' spinels", but it's just as likely that you've got "various ores". Meter survey to separate the rad and try to avoid the arsenic & mercury. 
Moving on to the stuck door to the basement, with a modicum of brute force greater than a nonagenarian can exert or a crowbar, you are now entering a space that the deceased hasn't touched in years. This is the Realm of Abandoned Projects. Before the door stuck and the stairs down to the basement became too hard to negotiate, the basement is where old researchers go to putter. If you're lucky, the puttering of choice is a 1500sqft model train layout. If you're unlucky, that layout is of the Nevada Test Site. One of those things that may let you know if you're in for Very Interesting Projects is the electrical box. If you see they have more electrical service that you might usually expect you may, for example, discover a synchrotron or fusor cobbled together downstairs. A collection of instrumentation racks still bearing AEC property tags on them from when they were discarded, grabbed from the dump and set back up to make a home counting lab. You know, to see how good their ores are. With a dissolver chemistry set to do that… 
It may, or course, just be even more falling apart boxes of stuff and ALL THE RADON. Hopefully the fan blowing all that clear is still working, but no ones checked in a while and it doesn't take long for a basement filled with ore to evolve a fair bit of radon and daughters. There are, of course, even more workbenches and the remains of decades of tinkering down here. This is also where you're likely to find the largest chemical storage, though unlikely with proper storage. If you're in earthquake country, lucky you got there before the big one. 
And so you step out into the sun again and approach the shed purchased from Sears and put up decades earlier. The memory of David Hahn, the Radioactive Boy Scout, popped into people's minds. Bless his heart, Hahn was an amateur and fairly incompetent. To do anything scary out in the shed with a head full of Manhattan Project, you're gonna need to run utilities. You'll notice if that's happened and back off appropriately. But from the collector point of view, what you're going to find out here are the things they cared about least or that are the most dangerous. And that doesn't mean most dangerous parts of the collection, like the 108mm DU round with live primer which is *obviously* at the side of their desk, but more like the boxes of dynamite, blasting caps and jugs upon jugs upon jugs of gunpowder. The things you want well away from the house because it might cause you to not have a house anymore. For the collector, you may find rusting drums filled with their least appealing specimens of crumbling carnotite. Or possibly jerrycans with waste from basement chemistry that never made it to household waste (or never could). But radiologically speaking, kinda boring. 
---
In the events that inspire this particular scenario, I was asked to clean out a deceased researcher's office because, and I quote, "You have the most experience doing this other than me and I don't have to do it because I'm your boss." 
A non-exhaustive list of the things I found in this office:
A signed, live grenade
Oxidized beryllium metal special form parts
Various nuclear fuel pellets
Xmas lights hung & wrapped around det cord
Machined explosive as a paperweight
A can of Agent Orange
AND SO MUCH MORE!!!
Also, labeled chunks of fused glass from various nuclear tests. These were treasures they'd collected over a long career in national service, military and otherwise. As far as I know, most of the things in that office vanished into other people's offices to enhance their collections. The explosives were disposed of…spectacularly.
I can only hope that when I pass my collections similarly leave someone wondering exactly how I accumulated all this and what stories does it all tell. Ideally, you should tell people what your collections mean to you, to educate others, before you die.
~fin~
P.S. – If you've ever wondered where the Coin Rants on the blog come from, that's me using my coin collection for its real overarching purpose: to tell stories with. Here's an example. I can tell a slice of history with pretty much every one of my coins. ;)
0
0
Phil B
Phil B
2020-10-08 11:11:35
2020-10-08 11:11:51
CHOOSE YOUR OWN RADIATION ADVENTURE - Collections of the Dead